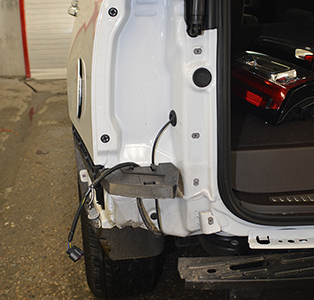 Today's vehicles are designed with a myriad of technology to make driving safer, easier and more enjoyable. This technology runs off your vehicle's electrical system. Everything from windows, lights, ignitions, electronic spark plugs, wires, radio, back up sensors and more needs electric to run. At the first sign that you need auto electrical repair, bring your car to Barry's Auto Body where our trained and certified mechanics can get your auto electrical system up and running quickly and at the best possible price. We perform auto electrical repair in New York City, Staten Island, Elizabeth, NJ, or other surrounding areas.
Auto Electrical Repair Process
We diagnosis your auto electrical repair needs with our award winning "Snap On" Modis Ultra Integrated Diagnostic System
The scanner will tell us exactly which circuits are functional and which aren't. This diagnostic check removes the guess work from auto electrical repair saving our customers time and money.
The "Snap On" scanner will check open codes and start to probe whichever system needs to be checked
A functional test is performed on all necessary components.
Most times the diagnostic test will pinpoint the problem. In the rare case where auto electrical repair is necessary due to an open short, we begin a manual check of wires and components so that we can pinpoint the damage.
Once we locate the problem and decide how best to proceed with the auto electrical repair, ourt technician will sit with you to discuss the problem and cost for repair.
We proceed with the auto electrical repair only after your approval.
Why Should You Get Your Electrical Systems Repaired?
Your car's electrical system powers the majority of components responsible for running your vehicle. A malfunctioning circuit may cause a "check engine" light to appear on your dash which some drivers ignore because they feel that the vehicle is running correctly, but that light is an indication that something is faulty in the vehicles system and that auto electrical repair is necessary. If ignored, minor electrical problems can become major ones which can ultimately endanger the life of the vehicle operator and others on the road. At the first sign that you need auto electrical repair, call us to schedule service. We will run a diagnostic to check, find the problem and get it fixed as quickly as possible.
We Check Your Electrical System Thoroughly
There was a time when the need for auto electrical repair would make some vehicle owners decide to scrap their car. That's when vehicle electrical systems were a mystery and mechanics were required to check each wire, fuse and bulb by hand to find the problem. When you bring your vehicle to Barry's Auto Body for auto electrical repair, we check your systems thoroughly with ease. We'll check:
Bulbs and Connectors
Harnesses and Wiring
Circuits and Fuses
Body, Engine and Window Control Modules
Beware: If you don't address minor electrical problems now, you could be left with a car that won't start, experience system failure or worse. We have been repairing electrical and electronic systems for over 35 years. Our ASE and I-Car trained technicians are experts at auto electrical repair work. We don't waste your time or money guessing or changing unnecessary parts. We repair your electrical wiring right the first time.
To schedule an appointment for electrical repairs, call (718) 948-8585. We'll get your vehicle fixed up right.