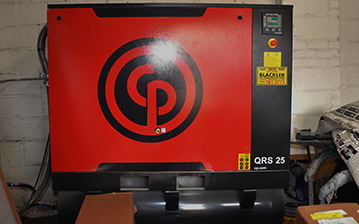 How do you approach an unknown car problem? You come to Barry's Auto Body where we use high tech, auto diagnostic equipment to identify vehicle problems.
The next time your "check engine" light turns on or you experience problems while driving, call us so we can identify the problem quickly so it doesn't result in a vehicle breakdown
The harsh truth is that many people ignore the vehicle warning signs to avoid paying for repairs. The truth is that when you ignore engine warning signs and avoid auto diagnostics, the damage to your vehicle increases turning what could have been an inexpensive fix turns into an expensive repair job down the line.
At Barry's Auto Body, we want our customers driving safe, reliable vehicles that don't need costly repairs, that's why we strongly urge our customers to come in at the first sign of trouble so we can perform an auto diagnostics check.  Not only will this save you time and money, it can also save your life.
Every day vehicle break downs occur leaving drivers stranded on busy roads or in out of the way places where they find themselves at the mercy of unknown mechanics at the nearest auto repair shop.  Many of these break downs can be avoided with the proper auto diagnostics check.
Don't let this happen to you.  At the first sign of a problem, bring  your vehicle to Barry's Auto Body.  We perform auto diagnostics for drivers across New York City, Staten Island, Elizabeth, NJ, and surrounding areas. From A/C problems to engine problems, we'll find out why your vehicle is acting strangely.
About Auto Diagnostic Service
Modern vehicles have an on-board computer that monitors for problems. In the event that the computer finds something not working properly, it alerts you with a dashboard warning light. Many warnings, like "change oil" or an image of a tire with an exclamation mark, are self-explanatory. Other lights, like the "check engine" light, will turn on for a variety of reasons which may not be readily known and which require an auto diagnostics check.
Sometimes, a warning light might not turn on at all, but you'll experience signs that something isn't quite right. Whether you're feeling vibrations that shouldn't be present, seeing smoke, or hearing an unusual sound, it's smart to get your vehicle checked out.
Our team of Auto Diagnostic specialists "talks" with your car through the use of a special Auto Diagnostic tools. By connecting our device with your vehicle, we're able to retrieve a code that tells us the specific problem. Next, we take a look at the specified area and confirm the problem.  Once confirmed, we can provide you with the best repair option at the lowest price possible.
Call us at the first sign of trouble and save yourself costly problems later.
Areas Served:
Staten Island NY , Elizabeth NJ, New York NY and local surrounding areas