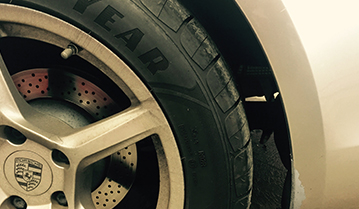 Approximately 12% of all automobile accidents are caused by mechanical failure.  A fully functioning vehicle brake system is crucial to your safety, the safety of your passengers, and the safety of other drivers on the road. If your brakes are slipping, feel loose or off in any way, the certified brake repair specialists at Barry's Auto Body stand ready to perform quality brake repair at the best possible price.  We're dedicated to providing brake repair service that you can depend on.  We stock a wide variety of replacement parts to fit most every vehicle make and model.
Knowing When a Brake Repair is Needed
Today's vehicles are equipped with complex breaking systems to enhance driver safety, but no matter how high tech a system is, a vehicle isn't safe to drive when it is in need of brake repair.  While the components comprising each brake system may vary, the warning signs for impending brake failure is usually noticeable. Most late model vehicles will show a dashboard warning light informing you that brake repair is needed.  If your vehicle is not equipped with warning lights take notice if your brakes start to squeal, grind, slip or feel loose when you engage, these are warning signs that brake repair is needed.

If your vehicle pulls to one side when braking, this may be a sign that your brake pads are worn.  If your brake pedal presses down too easily, this may be an indication of too much air in the hydraulic brake lines. If your brakes do not feel tight when you engage, this can be a sign of a malfunctioning caliper or low brake fluid in the brake lines .
Recognizing when your vehicle is in need of brake repair and immediately seeking service can reduce your risk of having an accident.  Most brake repair can be done quickly, getting you back on the road in no time. Ignoring the signs that your vehicle needs brake repair can cause more damage to your brake system and can put your safety at risk.
Barry's Auto Body Stands Behind Our Work
Our expert mechanics are fully trained in every aspect of brake repair and maintenance. We stock replacements components such as brake pads, brake shoes, parking brakes, rotors, drums, and hydraulic systems for a wide variety of vehicle makes and models. If you are in need of brake repair or if you wish to have your car inspected for routine maintenance to avoid breakdowns and more costly problems down the road, call the brake repair specialists at Barry's Auto Body today at (718) 948-8585 and speak to a member of our team.
We service vehicles in the New York City, Staten Island and the Elizabeth, N.J. area.