We are proud to offer a comprehensive Auto Detail Glazing paint renewal. We use premium car care products to make sure your car looks factory new. We are car paint and body experts and have a deeper understanding of automotive paint finishes then your average automotive detailing shop. We use our expertise in automotive paint finishes to make your old paint look fresh and new.
Schedule a paint renewal DA compound and glazing service with Barry's Auto Body. We help families across Staten Island, Brooklyn, NY, New York, NY, and Elizabeth, NJ make their cars look like new again.
We use a dual action sanding (DA) system to make your cars finish like

glass, better then most factory finishes. The sand paper we use is less invasive then most wool based polishers and produces a paint finish that will last a long time. After our Dual Action (DA) heat sanding treatment. Every time you wash your car for the life of your car it will look like it was just waxed. The heat mends the clear coat together and smooths out orange peel left by the factory to give the clear a mirror or sheet of glass like effect.It will give your car a "wet" look like it was just painted!
We use all water based detailing products so what you see is what you get. Most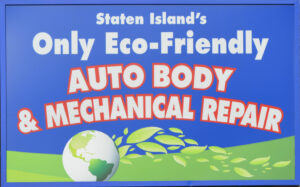 detailing shops want you to see your car looking good when you when you get it but don't care how it looks a week or a month from now. So they use oil based products that will look good at first but will start showing swirl marks a month or so afterwards once your car is washed again. Our compounds and waxes are all Eco friendly water based products so they will not cover up imperfections like a oil based product will and they will not harm cars paint long term either like oil based will. What you see when you pick it up is what you get.
We use poly foam glaze applicators because they are the best at achieving a thin even coat of wax. The thinner the glaze coating the deeper the shine.
We buff your car using quality microfiber Miracle Towels to make the final finish look like it is still wet.
We use the Surface Cleansing Mitt Fine Grade Clay System (Clay Bar) to make your paint feel smooth as glass. This clay system is excellent at decontaminating the surface , it removes over-spray, rail dust, industrial fallout and contamination that are embedded into the surface of your car. The unique microfiber mitt design allows our hand to cover all curves of your vehicle for a perfectly smooth surface.
Our Paint Renewal Process
Rinse car with water first (making sure to get under wheel wells, floor of car, into all cracks and crevices where dirt may be hiding)
Wash car with Car Bright Select foaming soap (must be Ph balanced correctly and safe for all paint types)
Dry car first with Ez dry squeegee by Carbrite to remove most water then with a micro fiber towel to remove whatever water is left
Dry sand entire car with a 2000 grit 3m sand paper(which is actually less harmful to car paint that most compounds used) over any deep scratches, scuff, or marks (this is first step and will help get rid of any surface scratches that are not through the paint. It will also lighten all scratches that are through cars paint)
Dry sand entire car with a 3000- 3500 grit sand paper on a heat activating Dual Action sander which is very fine and will heat up & smooth clear coat out on car giving a shine guaranteed to be better that any new car right out of thye show room
Wash or wipe car down to remove all residue and debris again.
Compound entire car with a Ultra Cutting Creme Light by Presta on a foam polishing pad. (water based products) (we use no wool pads) (heavy compounds will do more long term damage than sand paper. Also Heavy compounds are what creates swirl marks)
Polish entire car with a Ultra Polishing cream by Presta waster based products
Go over entire car with a swirl mark remover by Presta waster based products
Polish entire car by hand with Presta's breathable hand glaze. We use no waxes on your car because wax is not good for the future shine of your car. a wax will lock all dust into the cars finish and cause a car to dull over time.
We're committed to providing you with professional, unparalleled service. Call (718) 948-8585 to speak with a member of our team and schedule your appointment.