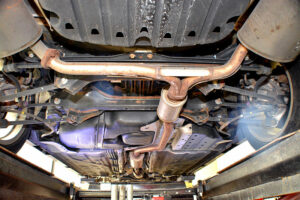 When you rely on your vehicle to get you where you need to go, you want the peace of mind to know that it is operating safely and at its peak performance level, that's why Preventive Maintenance is important.
Preventive maintenance of your vehicle will keep you and your family safe, help you avoid breakdowns and reduce fuel consumption. At Barry's Auto Body, we can perform preventative maintenance on vehicles in just under an hour, putting you back on the road quickly in a vehicle that is running optimally.  The best part about annual vehicle preventative maintenance is that it usually pays for itself with better gas mileage.
Call Barry's Auto Body today to schedule your annual vehicle preventive maintenance.  We service vehicles in the New York City, Staten Island and Elizabeth, NJ area. (718) 948-8585.
Preventive Maintenance —More Than Just an Oil Change
Barry's Auto Body believes the following are vital to keeping your vehicle at peak performance. We suggest checking:
Fluid Levels
All Engine Belts, Hoses and Filters
Spark Plugs
Brakes
Steering and Suspension
Tires
Transmission
Horn and Windshield Wipers
For the past 28 years, Barry's Auto Body has been keeping customer vehicles working longer. Preventive maintenance today helps to avoid problems in the future. Call us today and let our technicians help you determine the right preventive maintenance schedule for your vehicle. We're easy to get to. Just take a ride over to 4301 Amboy Rd. in Staten Island, NY. The shop is open Monday – Friday from 8:00 AM – 5:00 PM and Saturdays from 9:00 AM – 1:00 PM.
Call us now at (718) 948-8585 to schedule your preventive maintenance appointment.
Areas Served:
Staten Island NY , Elizabeth NJ, New York NY and local surrounding areas